To become an x-ray technologist, you first have to attend an accredited program, complete a clinical competence summary, and pass a national examination.
The accredited program may be available through a university or community college. The time frame for completion in Canada is either three or four years. In the U.S. some programs allow their students to be complete in two years however, they must have previous post secondary education. This may apply to several programs throughout Canada as well. However it is possible to enter into programs directly out of high school.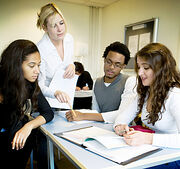 The types of courses that you will take to facilitate your learning will include:
Anatomy, Physiology, and Pathology
Relevant Physics and Biology (radiation protection
Problem solving/ improvisation
Critical/Creative thinking
Patient care
CPR
Equipment structure/ operation
Image assessment/ acquistion/ and storage
Education never stops in this profession. Technologists are continually learning because it is a core value of the profession. The CAMRT offers a national conference each year that allows members to attend. For more information see Professional development.
Class sizes:
Enrollment into an x-ray program ensures you smaller class sizes and more personal attention from your professors. Class sizes will depend on the school you attend but it is rare to see a classroom such as the one seen in Fig-1 when enrolled in an x-ray program. There are less professors for you to interact with therefore you are able to build good relationships with the ones you do have. Smaller class sizes allow you to develop good relationships with your classmates (Fig-2).
The classes in early years of the training are more didactic in nature (i.e. reading from the book). This is helpful because you must build up a knowledge base prior to entering a clincial setting. Depending the instuition, students will have increased clinical exposure throughout the training. Upon completion of each year students are required to complete a clinical practicum. This is a 8-10 week long course that requires the student to work regular shifts in the hospital. This helps students become more experienced and helps them learning aspect of the profession that do not come out of a book.
References:
 www.camrt.ca
www.asrt.org