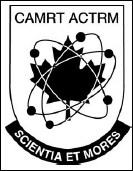 CAMRT
better known as the Canadian Association for Medical Radiation Technologists represents all persons working in the radiation field. This includes radiological technologists, nuclear medicine technologists, and radiation therapists. The association holds annual meetings every year and encourages all its members to attend. These meetings are intended to provide new information in the fields of radiation technology. Many speakers with different credentials present their findings to a group of their peers in order to maintain a solid knowledge base.  The Camrt also has a journal that allows members to submit material related to the profession. This material is available for all members to review, and allows members to become aware of new or improved technologies in our profession. There are many provinicial association that govern technologists throughout Canada, listed below:
The Camrt is member of the International Society of Radiographers and Radiological Technologists (ISSRT). This society consists of associations and societies from 79 countries (including Canada). A list of several countries is listed below inlcuding the link to their website (not all english).
References:
The Canadian Association of Medical Radiation Technologists (2009). Provincial Member Associations. Retrieved from: www.camrt.ca.
The International Society of Radiographers and Radiological Technologists. (2009). Member Societies of ISRRT. Retrived from: www.isrrt.org.